Features:
Flexible Mounting
Ground/Sub Stack 1-6 Cabinets
Pole Mount 1-2 Cabinets
Fly Mount 1-many Cabinets
High Grade Baltic Birch
Steel Fly/Stack Hardware
Variable Angle Mounting
Dual 6.5" Low/Mid Drivers
1.4" Compression Driver
Waveguide horn
Adjustable Cabinet Rigging
Integrated Handles
Options:
Ground Mount Frame
Pole Mount Frame
Fly Bar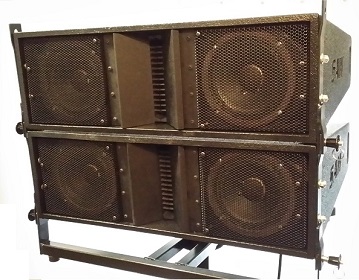 Overview
Build your own Dual 6.5" line array cabinet! Plans available
The LA206a is a flexible, scalable line array speaker system allowing a wide range of installation and mounting configurations. It can be ground stacked, subwoofer stacked, pole mounted, or flown. It is a "open" design based on proven and practical line array cabinet design that uses off-the-shelf drivers for simplicity, maintainability and affordability. Simply put - it is a straight forward, highly effective line array system that won't break the bank. The LA206a is designed and built in the US using high grade Baltic Birch plywood. The speaker components are provided by Eminence which are readily available from a number of sources including US Speaker and Parts Express. Using commercial, off-the-shelf components helps keep the price down and eliminates costly proprietary replacement parts often required by other line array speakers. The LA206a is a 2 way system and contains two 6.5" LF/MF drivers and a high energy 1.4" HF driver with a cross over point of 1.6KHz (18db/oct). It is designed to be used with a subwoofer as the LA206a operates above 94Hz. Each enclosure comes with steel rigging hardware rated for a 10:1 static load allowing up to 16 enclosures in a single array. This same cabinet rigging hardware allows for ground stacking of up to 6 cabinets and pole mounting of up to 2 cabinets. Commercial grade stainless steel locking pins allow easy assembly and disassemble of the stacks along with variable cabinet angles ranging from straight line to a 15 degree angle.
Specifications
Power handling:
250 Watts RMS
500 Watts Program
Impedance:
8 Ohms
Frequency Response:
93.5Hz - 20,000Hz
Weight:
38Lbs
Dimensions:
Height: 7.875"
Width: 24"
Depth: 17.75"