Features:
High Grade Baltic Birch
Build-in handles where you need them
Symmetric vents for flexible sub placement
Designed around the Peavey Low Rider 18
Interlocking feet pockets for stacking
Cabinet width matches the LA112 and LA206 Line Array Cabinets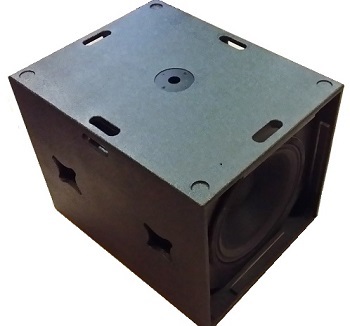 Overview
Build your own 18" Pro-Sound Subwoofer! Plans available
The SAW 118 subwoofer is designed with the working band in mind - Integrated, leak free handles are strategically placed where you need them. The symmetric front baffle provides flexibility in placement allowing them to be stacked or set side by side with equal spacing of the center of the woofer and the vents. A extremely rigid box that is easy to build yet professional looking - requiring only a single sheet 4 x 8 sheet of 3/4" plywood (with a very small amount of 1/2" plywood for vents and grill mounts). The design uses the Peavey Low Rider 18" driver that is powerful and readily available. Box Internal Volume (Vb) of 6.8 Cu Ft and an F3 of 38 Hz.
Drivers that can be used for the SAW118 include:
Peavey Low Rider 18
Eminence KappaPro 18 LF
B&C 18RBX100
Eminence Omega Pro 18A
Eminence Kilomax 18
FaitalPro 18HP1040
Oversound 18.2.600
Specifications
Power handling:
800 Watts RMS
1600 Watts Program
Impedance:
8 Ohms
Frequency Response:
38Hz - 120Hz
Weight:
98Lbs
Dimensions:
Height: 24"
Width: 24"
Depth: 30"