Features:
Flexible Mounting
Ground/Sub Stack 1-n Cabinets
Pole Mount single Cabinet with dual poles
Integrated with the SAW118 Subwoofer
Conventional 3 way active design
Close coupled HF waveguide when stacked
Integrated Handles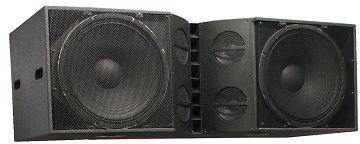 Overview
Build your own Dual 15" 3 way line array cabinet! Plans available
The LA215 is a large format 3 way line array speaker system that can be ground stacked, subwoofer stacked, or single pole mounted on two SAW118 subwoofer cabinet or other subwoofers with a 24" T-hat pole spacing. It is a "open" design based on proven and practical line array cabinet design that uses off-the-shelf drivers for simplicity, maintainability and affordability. It is designed to be a cost effective solution to the much more expensive commercial units costing 3 to 4 times as much. The speaker components are provided by Eminence which are readily available from a number of sources including US Speaker and Parts Express. Using commercial, off-the-shelf components helps keep the price down and eliminates costly proprietary replacement parts often required by other line array speakers. The LA215 is a 3 way active crossover system and contains two 15" LF drivers, four 6.5" closed back midrange drivers and two high energy 1.4" HF driver. It is designed to be used with a subwoofer or can be used full-range with an F3 of 62Hz. The cabinet can be built from a single 4x8' sheet of 1/2" plywood and a small amount of 3/4" (for the driver panels) and 1/8" (for the MF covers). The following specifications are based on the stock plans with the Eminence drivers : Kappalite 3015, LA-6CBMR, and the N314T-8 1.4" compression drivers. Other drivers can be substituted and would result in different spcifications.
Specifications
Power handling:
LF: 900 Watts RMS
LF: 1800 Watts Program
MF: 400 Watts RMS
MF: 800 Watts Program
HF: 200 Watts RMS
HF: 400 Watts Program
Frequency Response:
LF: 62Hz - 500Hz
MF: 500Hz - 1600Hz
HF: 1600Hz - 20kHz
Weight:
150Lbs
Dimensions:
Height: 16.125"
Width: 48"
Depth: 20.5"