Features:
High Performance 12" sub
Designed for the LA803
Simple design using 1/2" braced plywood
Professional looking that is Easy to build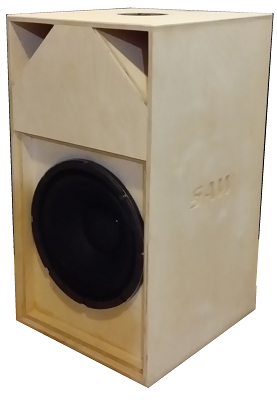 Specifications
Power handling:
400 watts RMS
Frequency Response:
F3: 44.46Hz
Cross over at 125 Hz to tops
Weight:
40Lbs
Dimensions:
Height: 27"
Width: 15"
Depth: 16"
Volume total: 2.7 Cu Ft
Overview
Build your compact subwoofer cabinet! Plans available
The SAW112 Subwoofer is a perfect match for the LA803 compact line array speaker system allowing a solid base for pole mounted tops such as the LA803. The subwoofer is designed to be as compact as possible but yet provide a resonable F3 and fit the performance of the LA803 Line Array tops. The System is desiged to be crossed over at 125Hz and is perfect for a compact system for small venues.