Features:
Pro Sound Speaker Plans
Simple Rigging hardware plans
Variable Angle Mounting
Uses common drivers
Integrated Handles
Detailed plans available
Options:
Ground Mount Frame
Pole Mount Frame
Fly Bar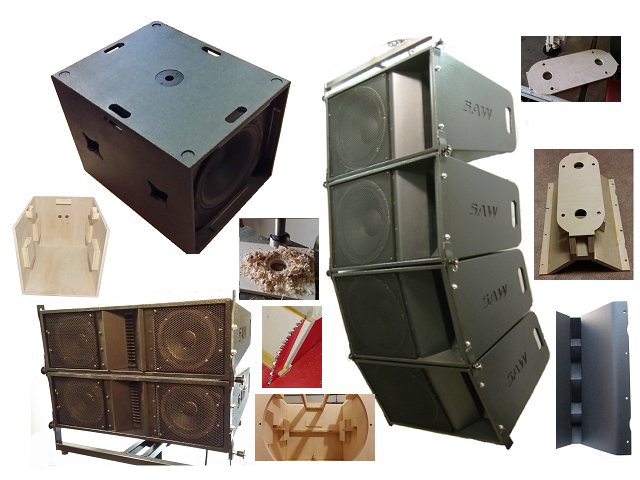 Overview
Build your own Line Array speakers with a set of these comprehensive and detailed plans. Sprague Audio Works designs cost-effective, scalable professional audio loudspeakers systems for working pro-sound folks on a budget. Because you construct the boxes you get big name performance at do-it-yourself prices. Sprague Audio Works designs are proven performers. We've done all the engineering, all you have to do is make some saw dust and assemble them!

Check out the sample plans
Scalability
We've all seen guys buy loudspeaker systems that are attempts at "one size fits all." And if you've set up enough shows, you know it's more like, "one size fits none!" Because Sprague Audio Works systems are designed to be used in multiples, your system can be just right for the job at hand. Small gigs can be handled with one or two light weight cabinets over a pair of subs. Have a bigger show? No sweat! The
LA112
line array rigging system can accommodate up to 8 cabinets. Add as many super efficient SAW-118s as you need to create an earthquake of first octave reinforcement from 35Hz up! Whatever job you have, you can take just the right amount of lightweight, stackable gear.
For smaller venues or when great music and vocal quality is required at lower volumes in churches and smaller auditoriums, the
LA206
is a great match - using dual 6.5" drivers with a 1.4" exit compression driver and a proven HF waveguide designed specifically for line arrays.
And new for 2016, is the
LA215
- a large format dual 15" 3 way system for the ultimate a high performance speaker system at a fraction of the cost of most commercial systems of this caliber. The
LA215
incorprates a dual 1.4" exit waveguide that has been tighly integrated into the top and bottom cabinet panels allowing very tight and cohesive coupling of the HF section when stacked.
A new addition to the product line is the
LA803
which is built around the new
Eminence Alpha 3 drivers
. This cabinet is easy to build and provides surprisingly articulate sound at volumes perfect for smaller venues. This is designed to couple with the new
SAW112 subwoofer.
which makes for a very compact yet high performace system.
Cost Effectiveness
Sprague Audio Works plans use commercially available drivers and crossovers so you'll never buy another proprietary replacement part again. For the working pro-sound engineer, that is real piece of mind when it comes to replacing critical parts for a minimum of cost. Because the parts Sprague Audio Works uses in their designs are available from a number of online retailers, you'll be able to shop around for the best prices when building or repairing your loudspeakers.
Value
You will save hundreds of dollars per box when you build our boxes versus buying a big name, prebuilt box. You will also have the satisfaction of assembling your boxes from scratch. So whether you're an experienced wood worker or someone who'd rather just glue, screw and paint, we've got you covered! Our box designs are as rugged and sound as good as the boxes sold by the big boys for less cost.